2015
November 2015
Sniffing Out Dementia Risk
B-SIT test called a useful screening tool
Article: MEDPAGETODAY.COM
October 2015
October 26, 2015 – A few photos of Community Advisory Board members at our Women's Expo booth this weekend.  What a great event!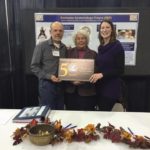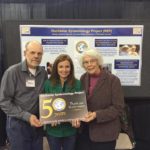 Diverticulitis on the Rise in U.S. Since 2000
2000's, a new study suggests
Article: REUTERS.COM | BY KATHRYN DOYLE
September 2015
Increased Detection of Low-Risk Tumors Driving Up Thyroid Cancer Rates Mayo Study Finds
ROCHESTER, Minn. – Low-risk cancers that do not have any symptoms and presumably will not cause problems in the future […]
Article: NEWSNETWORK.MAYOCLINIC.ORG
ESC: Warfarin May Lower Dementia Risk in Afib Patients
Study underscores link between atrial fibrillation and silent infarcts.
Article: MEDPAGETODAY.COM
August 2015
Diastolic Dysfunction Progresses More Quickly in Patients with RA
Compared with the general population, diastolic dysfunction developed more rapidly in patients with rheumatoid arthritis during a 5-year period,…
Article: HEALIO.COM
July 2015
Hysterectomy May Indicate Cardiovascular Risk in Women Under Age 50
ROCHESTER, Minn. – Hysterectomy may be a marker of early cardiovascular risk and disease,…
Article: NEWSNETWORK.MAYOCLINIC.ORG
Using the REP, researchers find what the risk factors are for long-term opioid use.
One in 4 People Prescribed Opioids Progressed to Longer-Term Prescriptions
Opioid painkiller addiction and accidental overdoses have become far too common across the United…
Article:  NEWSNETWORK.MAYOCLINIC.ORG
June 2015
Rochester Post Bulletin wrote an article about opioid use and long-term effects.
A Painful Conclusion
Opioid painkillers are the third-most prescribed drug in Olmsted County, according to the Rochester Epidemiology Project.
Article: POSTBULLETIN.COM | BY PAUL JOHN SCOTT, PSCOTT@POSTBULLETIN.COM
Steroid use in rheumatoid arthritis is started earlier in treatment than it was 20 years ago.
Steroid Use in RA More Common
More patients with rheumatoid arthritis today are initiating treatment with glucocorticoids early in the course of disease than was the case 20 years ago, a retrospective study found.
Article: MEDPAGETODAY.COM
Is it Dementia, or just normal aging?  A new tool developed using the REP may help patients find out.
Is it Dementia, or Just Normal Aging?  New Tool May Help Triage
Ronald Peterson, M.D., Ph.D., a Mayo Clinic neurologist, discusses new scoring system to help determine which elderly people may be at a higher…
May 2015
Vitamin D toxicity rare in people who take supplements, researchers report
Over the last decade, numerous studies have shown that many Americans have low vitamin D levels and as a result, vitamin D supplement use has climbed in recent years. Vitamin D has been shown to boost bone health and it may play a role in preventing diabetes, cancer, cardiovascular disease and other illnesses. In light of the increased use of vitamin D supplements, researchers set out to learn more about the health of those with high vitamin D levels. They found that toxic levels are actually rare.
MedicalXpress
Original Abstract: Mayo Clinic Proceedings
More Evidence That ADHD Drugs Don't Curb Ultimate Height
Some earlier research hinted that Ritalin and Adderall can hamper a child's growth.  But a study of adults who took the drugs as kids now suggests any such effect is…
Article: NPR.ORG
Midlife Arts, Crafts and Socializing Tied to Better Late-Life Cognition
(Reuters Health) – In a new study of people over age 85, those who said they engaged in things like painting, quilting or book clubs during middle age were less…
Article: REUTERS.COM | BY KATHRYN DOYLE
April 2015
Midlife arts, crafts and socializing tied to better late-life cognition
A study using the Rochester Epidemiology Project found that among cognitively healthy people 85 to 89 who were followed for four years, engaging in significant social activity in mid- and late life drove down the risk of developing mild cognitive impairment by 55 percent. Engaging in craft projects in mid- to late life drove the risk of such intellectual decline down 45 percent.
Article: Reuters
Ischemic colitis rate increasing, most common in older patients with comorbidities
The incidence of ischemic colitis has increased in recent decades and is most common in older patients with multiple comorbidities, according to findings from a retrospective population-based cohort and nested case-control study.
Healio
Original Abstract: Clinical Gastroenterology and Hepatology
March 2015
New Tool Helps Predict Transition to Mild Cognitive Impairment
Researchers have developed a new scoring system that can help identify cognitively normal elderly individuals at risk for mild cognitive impairment (MCI).
Medscape
Original Abstract: Neurology


February 2015
Study Suggests More Sensitive Lung Cancer Screening Criteria Needed
A new study analyzing lung cancer incidence and screening published in the February 24 issue of JAMA identified a declining proportion of lung cancer patients meeting the current qualification criteria for high-risk screening. The study suggests that increasing numbers of patients with lung cancer would not be acceptable as candidates for screening.
Lung Disease News
Original Abstract: Journal of the American Medical Association
January 2015
Framingham May Fall Short in Newly Diagnosed PsA
A standard algorithm for identifying patients at risk for an adverse cardiac event underestimated the risk for patients newly diagnosed with psoriatic arthritis (PsA), according to researchers.
Medpage Today
Original Abstract: Arthritis Care and Research
Find More Publications
To find more publications of research studies supported by the Rochester Epidemiology Project, visit our Publications Search page. On this page, you can search hundreds of publications supported by the REP and related to almost every disease imaginable.